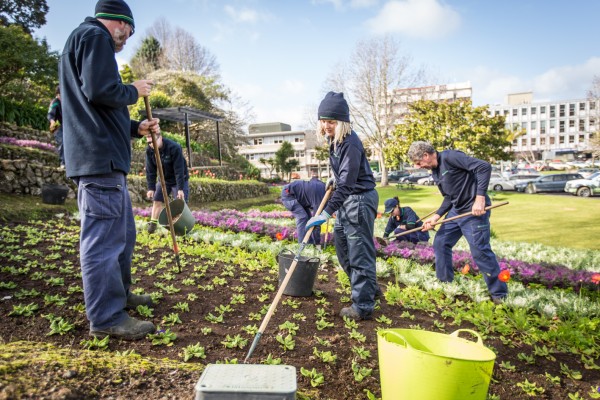 Our work with Whangarei District Council commenced after winning the city's Premier Parks Contract in 2001. Since then, we have gained maintenance contracts for a further 620 parks and reserves. In addition to this, we also provide full facilities and maintenance contracts for 26 sports parks (including a first-class cricket ground). Effectively, this means we undertake all parks and maintenance services for the entire district which ranges from Langs Beach in the south through to Bland Bay in the North.
We have built a solid working relationship with the Council. Our team has been recognised for the development of innovative, colourful displays, impressive ferneries, and the implementation of themes that reflect Northland's unique culture.

Services We Provide:
Parks Management and Maintenance
Includes supply of all stock plants, design of plant beds, art works maintenance, general horticulture, mowing, mechanical edging and parks asset maintenance.
Sports Parks' Maintenance
Includes care of 10 cricket blocks including one 1st Class at Cobham Oval, turf management, mowing and irrigation and management. We also hold the contract for Toll Stadium, home of Northland Rugby.
Pension Housing Grounds Maintenance
Recreational Services maintains 16 Pension Housing sites throughtout the Whangarei district. A range of work is carried including lawn mowing, hedge and shrub maintenance, weed and garden maintenance and hard surface cleaning.
Renovations and Development
Includes verti-draining, ground breaking, topdressing, seeding and coring, and renovation of cricket pitch.